That's a wrap! The last night of Kids Sing Broadway (KSB) was on Saturday and every performance was absolutely outstanding. From the leadership to the creativity and hard work, everyone involved deserves a standing ovation! SAYT youth directed, managed, designed and operated the entire production and we couldn't be more proud.
The shows were completely sold out! Just in case you weren't able to make one, but are interested, KSB was cabaret style with a large variety of different Broadway shows and songs performed by youth ages 3-18. Our actors performed duets, solos and group numbers at each performance.
While everyone who took part in this production did an absolutely wonderful job, we would like to take this opportunity to highlight our youth director, Taylor Koski. The past three years Taylor has played a part in Kids Sing Broadway, learning and growing with each experience. However, when this year rolled around, we knew Taylor was prepared to take on a new role, as the director.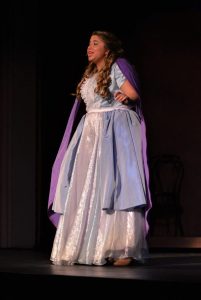 Taylor easily took a lead in rehearsals when it came to choreography, blocking, songs and choosing music. "It is awesome to be able to work with kids who for the first time are being showcased in a solo or a duet."
She then began to reminisce, "I see my younger self in a lot of these kids and I remember how much joy and confidence I gained from experiences like these. Watching these kids light up on stage reminds me of why I love theater so much and why I have stuck with it for so many years."
Taylor expressed, "Everything I know about being a leader and a successful member of society, I have learned through my mentors at SAYT"- the people here have become some of her closest friends and family.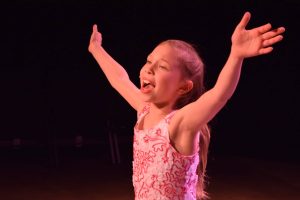 Next year Taylor will be a freshman at Northern Michigan University, majoring in Elementary Education. She hopes to be involved with theater at NMU and although she will no longer be a youth, she still plans to stick around and help out with future SAYT productions. While her and the rest of our seniors will be greatly missed, we know they are off to do amazing things. We can't wait to watch them continually grow and impact our community (As long as they come back and visit us!).